Nature & greenery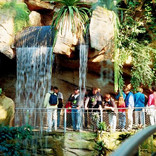 Hannover is a "green city". There is the Eilenriede city forest with its footpaths and bridle paths, beer gardens and restaurants, the attractive Hannover Adventure Zoo and, in the heart of Hannover, Lake Maschsee. The Royal Gardens in the district of Herrenhausen are unlike any other in Germany.
Eilenriede city forest
A city forest in the truest sense of the term and, at the same time, Hannover's "green lungs". A proud 650 hectares of woodland in the middle of the city: a park without equal in Europe. There are grassy areas for sunbathing and games, children's play areas for the little ones and paths leading to woodland cafés. On the edge of the wood is Hannover Zoo with its four fascinating animal worlds and specially created landscapes designed to meet the needs of individual species.
Lake Maschsee – at the heart of the city
Lake Maschsee, close to the New Town Hall, offers fun for the all the family whatever the time of year. The lake attracts water sports enthusiasts and walkers, cyclists and joggers in equal measure. It is also popular with inline skaters.
Royal Gardens at Herrenhausen
The Royal Gardens at Herrenhausen, comprising the Georgengarten, the Great Garden (
Grosser Garten
), Berggarten and the Guelph Garden (
Welfengarten
) are particularly fine examples of landscape gardening. The baroque Royal Gardens have remained unchanged for more than 300 years, and are the only ones of their kind in Germany.
Top of page
Map of Germany
Map showing all of Germany's TOP travel destinations...
Click here!
Search in surrounding area