Trade fairs/exhibitions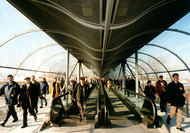 Every year the Deutsche Messe AG team in Hannover stages 50 trade fairs and exhibitions attracting over 25,000 exhibitors and almost two million visitors to the city. Its calendar of events boasts more than eleven international trade fairs for the capital goods sector. Deutsche Messe AG is Germany's best-known trade fair organiser and ranks among the top exhibition organisers in the world.
CeBiT
The world's premier trade fair for IT, telecommunications, software and computer services takes place every March in Hannover. It is the largest exhibition of its kind in the world, with more than 6,000 companies showcasing their products to 480,000 visitors in an area of 320,000m˛. It focuses on consumer electronics, the internet and PCs, telecommunications, data protection and IT services.
HANNOVER TRADE FAIR
Every April Hannover Exhibition Centre brings together eleven leading trade fairs under one roof at the world's most important technology event. Across a net area of 211,000m˛, 6,300 companies from 65 countries showcase their products and services in the fields of technology, innovation and automation. More than 200,000 visitors come to see the latest in manufacturing and process automation, drive technology, IT, energy technology, microtechnology and nanotechnology and lots more besides.
IAA International Motor Show for Commercial Vehicles
Held every two years in September the IAA International Motor Show for Commercial Vehicles is all about the vehicles, equipment and systems involved in transporting goods and people. It is run by the German Association of the Automotive Industry (VDA). Around 250,000 visitors come to find out the latest about cars, vehicle manufacturing, commercial vehicles, motorbikes, caravans, car accessories, transportation and traffic management from 1,300 exhibitors.
Top of page
Map of Germany
Map showing all of Germany's TOP travel destinations...
Click here!
Search in surrounding area