Contact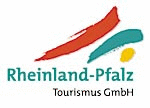 Rhineland-Palatinate - Other areas of interest
Top of page
Cities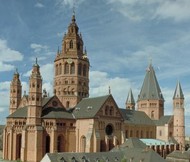 The towns in Rhineland-Palatinate bear witness to their turbulent history. There are many relics from Roman times, as well as magnificent, well-preserved buildings and monuments from later generations. There are quiet wine-growing hamlets on the Rhine and Moselle, idyllic villages in the volcanic Eifel and towns such as Mainz and Worms, steeped in history yet with a modern buzz.
Mainz has an impressive history. Roman relics point to its 2000-year-old heritage while magnificent baroque buildings remind us of the days of the Electors. The best architects and the most skilled sculptors shaped the townscape in the 17th century and created exclusive aristocratic residences and new churches. The imposing cathedral that dominates the skyline of this regional capital symbolises the close historic link between church and town.
Koblenz, the gateway to the Middle Rhine, a UNESCO World Heritage site, lies on the confluence of two world-famous rivers, the Rhine and the Moselle, surrounded by four upland regions. The town is two-thirds covered by trees, water or green spaces. Countless museums document the 2000-year-old history of the city. Visitors from all over the world come to admire the many sights and places of interest that Koblenz has to offer.
Worms, one of Germany's oldest towns, has a long and important history, as many of the buildings and monuments testify. Worms today is a modern town on the Rhine, but there is evidence of the Middle Ages at every turn, not least because of the associations with the famous Nibelungen saga.
Top of page
Map of Germany
Map showing all of Germany's TOP travel destinations...
Click here!
Highlights in brief
Mainz
state capital, old quarter, cathedral, Gutenberg museum
Kaiserslautern
Town of Barbarossa, Palatinate Forest nature reserve, music academy
Worms
Cathedral, Nibelungen museum
Speyer
Imperial cathedral, sculpture garden
Koblenz
Deutsches Eck (German Corner), Stolzenfels Castle, Ehrenbreitstein fortress
Nürburg
Nürburgring Formula One racetrack
Trier
Porta Nigra, Quint palace
St. Goarshausen
Loreley cliffs
Idar-Oberstein
Gemstones, half-timbered buildings, Church of the Rock
Bad Dürkheim
Vitapark resort, giant wine barrel