Contact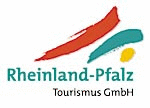 Rhineland-Palatinate - Other areas of interest
Top of page
Regions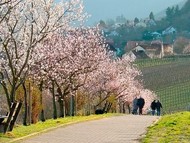 Between them, the seven regions of Rhineland-Palatinate - Middle Rhine-Lahn-Taunus, Rheinhessen, Eifel, Ahr, Moselle-Saar, Hunsrück, Nahe, Westerwald and Palatinate - have everything the holidaymaker could wish for.
The Eifel is a land of volcanic origin and is famous for its maars - volcanic lakes created almost 30,000 years ago when hot volcanic magma rose from deep inside the earth and exploded upon contact with ground water. The Eifel is ideal walking country. The casino in the elegant spa town of Bad Neuenahr has a cosmopolitan feel. Silence reigns in the Maria Laach abbey founded in 1093, but for high-speed thrills and excitement, head for the world-famous Nürburgring racetrack!
The Westerwald is a chain of mountains that runs between Frankfurt and Cologne, between the Lahn, Sieg, Rhine and Dill rivers. A verdant walkers' paradise with wave after wave of forested peaks, as far as the eye can see. Farming, and the mining of iron ore, slate, basalt and clay, have helped to shaped the Westerwald over the centuries. Amidst the many trees, there are also a number of lakes providing excellent opportunities for all kinds of water sports.
The Moselle Valley between Koblenz and Trier is a romantic river landscape, known throughout the world for its wine making, which has also lent the valley its unique character. At every turn here is an idyllic wine-growing village or prestigious estate, a tavern serving local wine or place of cultural and historical interest. The Moselle is 545 kilometres long, making it the Rhine's largest tributary. The first vines were planted on the steep slopes by the Romans and the Celts. Riesling is one of the best-known white wine varieties.
Between Alsace, Saarland and Rheinhessen is the Palatinate, part of the Upper Rhine plain and its western hinterland. This is where the Palatinate Forest lies. It forms the link between the Eifel mountains and the Hunsrück hills in the north, and the Vosges mountains in the south. The landscape is richly varied, with gentle plains, mountains and river gorges. The flattened hilltops and the strange red sandstone rock formations that tower above them in the south of the Palatinate Forest are typical of this diversity.
Rheinhessen is Germany's largest wine-making area. As well as wine and good food, the region also has plenty to offer in the way of leisure activities, including cycling, walking, hot-air ballooning and golf. It also has a lively cultural scene, with world-class art and culture as well as traditional local fairs and wine festivals.
Top of page
Map of Germany
Map showing all of Germany's TOP travel destinations...
Click here!
Highlights in brief
Mainz
state capital, old quarter, cathedral, Gutenberg museum
Kaiserslautern
Town of Barbarossa, Palatinate Forest nature reserve, music academy
Worms
Cathedral, Nibelungen museum
Speyer
Imperial cathedral, sculpture garden
Koblenz
Deutsches Eck (German Corner), Stolzenfels Castle, Ehrenbreitstein fortress
Nürburg
Nürburgring Formula One racetrack
Trier
Porta Nigra, Quint palace
St. Goarshausen
Loreley cliffs
Idar-Oberstein
Gemstones, half-timbered buildings, Church of the Rock
Bad Dürkheim
Vitapark resort, giant wine barrel