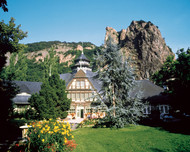 The highland scenery of the Hunsrück region provides a stunning backdrop to the enchanting countryside along the Moselle, Nahe, Saar and Rhine rivers. The Hunsrück is a walkers' paradise, a wonderful place to experience the romantic, unspoilt countryside at first hand.
This region is also full of history. Sometimes visitors may believe they have taken a step back in time to the days when Schinderhannes, the legendary outlaw, still roamed the land. The Hunsrück region became famous around the world through the TV series, "HEIMAT", which was filmed here and depicted life in Germany over the last 100 years. Dating back more than 400 million years, Hunsrück slate has been extracted at underground mines here since the Middle Ages.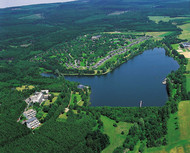 The "Schiefergrube Herrenberg" mine is now open to visitors. In this historical slate mine you can also see a fantastic variety of marine fossils enclosed in the slate. Ancient Celts, Romans and Franconians once settled here. In the Middle Ages and early modern age, aristocratic families built a number of castles and palaces here reflecting the history of this region. These and other historical buildings and natural monuments, Celtic and Roman sites, mines and observation towers, natural history and cultural museums, as well as educational and discovery trails make for interesting days out, while old half-timbered buildings and farmhouses, churches with their famous Stumm organs, mills and gem-cutting factories show us today how the people of the Hunsrück region once lived.
The Hunsrück countryside, including the Saar-Hunsrück and Soonwald-Nahe nature reserves, is a remarkable mix of deeply indented valleys, mountain ridges with the highest peak in the Rhineland-Palatinate, the Erbeskopf (818m), and high plateaus. With its wild, romantic streams, bizarre rock formations and wide expanses of forest, it is a perfect destination for walking and relaxation.