Contact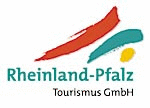 Rhineland-Palatinate - Other areas of interest
Top of page
Nature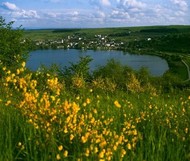 The unique landscape of the volcanic Eifel is studded with volcanic craters: there are around 240 just on the route between Bad Bertrich, Daun and Ormont on the Belgian border. Nine of these volcanic craters are now filled with water, and they are known as the maars of the volcanic Eifel. The best-known and largest of these maars - with a diameter of 2.4 kilometres - is Lake Laach, in the east of the region near Mendig. All the maars are strictly enforced nature conservation areas. The dry maars, Strohner Märchen, Mürmes, Dürres Maar and Dreiser Weiher, provide a vital retreat for rare flora and fauna.
The Palatinate Forest Nature Reserve is the largest contiguous wooded area in Germany. The unusual nature and beauty of the area is largely due to its large expanses of forest, but also to the fact that it is an upland region. It also boasts a wine-growing area which spreads out along the German Wine Route like a sea of vines. This part of the country - described since early times as a "Garden of Eden" - is blessed with some of the best wines in the whole of Europe. Figs, lemons and sweet chestnuts all thrive in the mild climate.
Top of page
Map of Germany
Map showing all of Germany's TOP travel destinations...
Click here!
Highlights in brief
Mainz
state capital, old quarter, cathedral, Gutenberg museum
Kaiserslautern
Town of Barbarossa, Palatinate Forest nature reserve, music academy
Worms
Cathedral, Nibelungen museum
Speyer
Imperial cathedral, sculpture garden
Koblenz
Deutsches Eck (German Corner), Stolzenfels Castle, Ehrenbreitstein fortress
Nürburg
Nürburgring Formula One racetrack
Trier
Porta Nigra, Quint palace
St. Goarshausen
Loreley cliffs
Idar-Oberstein
Gemstones, half-timbered buildings, Church of the Rock
Bad Dürkheim
Vitapark resort, giant wine barrel