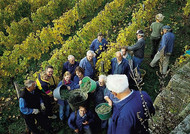 The Palatinate lies to the left of the Rhine between Alsace, the Saarland and Rheinhessen, forming part of the Upper Rhine plain and western hinterland. The Haardt and Wasgau hills, now known collectively as the Palatinate Forest, are the link between the Eifel and Hunsrück hills to the north and the Vosges mountains to the south.
The landscape is richly varied, with gentle plains, mountains and river gorges. The flattened hilltops and the strange red sandstone rock formations that tower above them in the south of the Palatinate Forest are typical of this diversity. Most of the Palatinate Forest is a designated nature and biosphere reserve. There is a hint of Tuscany in the air on the eastern slopes of Palatinate hill country. This is the Palatinate wine-growing region where grape varieties thrive in the mild, sunny, Mediterranean climate.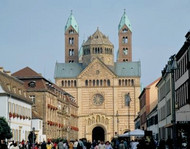 Wild sweet chestnut trees, normally only found in southern Europe, grow on the hills on the edge of the Palatinate Forest. Tobacco, figs, kiwis, lemons, almonds and apricots all flourish on the eastern slopes, where they are protected from the wind and enjoy many days of sunshine, giving the area an almost Mediterranean feel. The Palatinate - the "wine cellar of the Holy Roman Empire" - is Germany's largest and most productive wine-growing region (around 23,000 hectares). It is also a paradise for walkers and cyclists.
As long as 2,000 years ago it was the hunting ground of choice for princes, emperors and kings. Of all Germany's regions, the Palatinate has some of the richest historical associations - with Emperor Barbarossa, for example, and the democracy protesters at the Hambach Festival of 1832. Magnificent edifices, such as the imperial cathedral at Speyer, reflect the Palatinate's colourful past. The legacy of the Salian emperors is very much in evidence in Speyer. No fewer than eight German emperors and kings are buried in the crypt of the 11th-century Romanesque cathedral.