Contact (Route)
Tourist-Information Arnstadt
Markt 3
99310 Arnstadt
Tel. 03628/602049
98693 Ilmenau
Tel. 03677/19433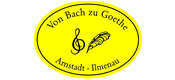 Contact
Deutscher Wanderverband
Wilhelmshöher Allee 157-159
D-34121 Kassel
Tel.: +49 (0)561-93873-0
E-Mail:
info@wanderverband.de
Themenwanderweg "Von Bach zu Goethe"
Length, Start/End
25km, Arnstadt - Ilmenau
Highest elevation: 605m
Altitude profile

Service
Tip
Bach's House, Arnstadt: one of the Bach family's main residences is located at Kohlgasse 7 in Arnstadt. No other "Bach town" in Germany still has a house that Johann Sebastian Bach is known to have frequented and in which he probably even lived for a while.




Cultural tour of the Wipfratal district

This 25km marked trail from Arnstadt to Ilmenau connects places associated with both Johann Sebastian Bach and Johann Wolfgang von Goethe. The route runs across the Reinsberge viewing point, Mount Veronikaberg and through three nature conservation areas with magnificent panoramic views over the valley of the raging Gera river, the slopes of the Thuringian Forest and the picturesque Wipfratal valley. It runs through idyllic, unspoilt countryside full of beech trees and mixed forests.

The trail starts at the Bach statue in Arnstadt's market square and then runs along Wollmarkt, following the course of the Gera river. Climbing uphill, the route then becomes gently rolling until it reaches the vantage point offering panoramic views of the Wipfratal valley.

After 10km, you pass through rugged limestone scenery with its typical flora to the Reinsberge viewing point and then to the ruins of Reinsburg castle, an ancient robber baron's lair destroyed in 1290.
It then climbs to the highest point on the trail, the Halskappe (605m), before descending past one of Germany's largest collection of yew trees on the way to Martinroda. The route then follows the Ilmenauer Fussweg trail to the university town of Ilmenau, where walkers are welcomed by a statue of Goethe sitting on a bench in front of the guildhall where he worked as privy councillor.

Quality-certified trail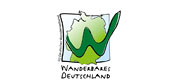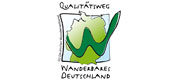 Travel Information
Arnstadt/Ilmenau/Plaue accessible by rail
Martinroda accessible by bus

Weather
Berlin
21.2 °F, heavy clouds
Bremen
26.6 °F, bright
Dresden
28.4 °F, dull weather
Düsseldorf
32 °F, heavy clouds
Erfurt
21.2 °F, cloudy
Frankfurt
28.4 °F, heavy clouds
Hamburg
23 °F, bright
Hannover
28.4 °F, cloudy
Kiel
24.8 °F, bright
Cologne
32 °F, heavy clouds
Magdeburg
28.4 °F, bright
Mainz
28.4 °F, heavy clouds
Munich
28.4 °F, cloudy
Potsdam
23 °F, fog
Saarbrücken
30.2 °F, snow shower
Schwerin
15.8 °F, bright
Wiesbaden
28.4 °F, heavy clouds
Das Wetter in: