Places of interest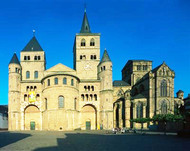 The happy coexistence of the old and the new - the illustrious past and a modern, youthful lifestyle - is precisely what gives Trier its special charm. You come across most of the places of interest, such as the centrepieces of all nine of its UNESCO world heritage sites, as you stroll around the town centre and sightseeing is easily combined with shopping or taking a break for a glass of Moselle wine in the medieval market square. Trier's vineyards actually start just 500 metres from the amphitheatre.
Roman buildings: Porta Nigra, basilica, imperial baths and amphitheatre
The most famous are the Porta Nigra gate, staggeringly high and built of colossal, weathered sandstone blocks and Constantine's Basilica whose interior is the largest single room to have survived since antiquity. The imperial baths were part of the largest bathing complex in the Roman empire and can also be explored below ground. The amphitheatre, the arena at the foot of Petrisberg hill that saw gladiatorial and animal combat, was where crowds of up to 20,000 cheered on the shows and is one of the venues for the modern-day Antiquity Festival together with the imperial baths.
Cathedral and Church of Our Lady
The present cathedral in Trier stands on the site of a former palace of Emperor Constantine and still contains part of the Roman original. Its art and architecture covers a time span of more than 1,650 years. Directly adjacent stands the earliest Gothic church in Germany, the Church of Our Lady, built in the 13th century.
Zurlauben
Zurlaubener Ufer, by the Kaiser-Wilhelm Bridge, is a quaint little spot on the Moselle. Formerly a fishing village, many of its houses date back to around 1800 and it has retained much of its traditional character. Nowadays it also has lots of lively restaurants and cafés.
Top of page
Map of Germany
Map showing all of Germany's TOP travel destinations...
Click here!
Search in surrounding area