Nature & greenery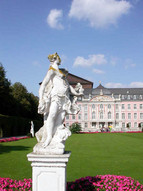 Trier is a town for all seasons and is always both fascinating and relaxing, with havens of peace, green spaces, tranquil squares, parks and promenades cheek by jowl with architectural monuments and shopping streets.
Electoral palace and gardens
The baroque-style palace gardens with their artistic and historic monuments are set against the rococo façade of the electoral palace, a coexistence of the present and the past - with flower borders dotted with statues.
Wine trail
Trier is a classic Riesling growing region. The wine trail starts near the amphitheatre. Along the way visitors find out about the remarkable art of viticulture and the life of the vines themselves by means of information boards illustrating different grape varieties, the climate and the soil conditions.
Top of page
Map of Germany
Map showing all of Germany's TOP travel destinations...
Click here!
Search in surrounding area