Shopping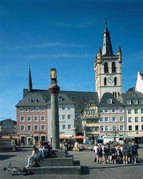 The old quarter's pedestrian streets offer a wide selection of designer fashion boutiques, specialist outlets and antique shops - a paradise for shoppers.
Pedestrianised old quarter
The main thoroughfares in the extensive pedestrian zone leading from the Porta Nigra are Simeonstrasse, Hauptmarkt, Brotstrasse, Fleischstrasse and Neustrasse and its side streets. There are designer fashion boutiques, department stores, lifestyle shops, "fair trade" shops selling third-world goods, jewellers, specialist outlets and antique shops.
Souvenirs
Good-quality souvenirs of Trier, Roman coins, sculptures, books about Trier and local wines are on sale in the Trier tourist information office next to the Porta Nigra. A wide range of unusual souvenirs can also be found in places such as the souvenir stalls in Grabenstrasse.
Top of page
Map of Germany
Map showing all of Germany's TOP travel destinations...
Click here!
Search in surrounding area