Art & culture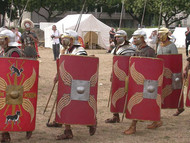 The Episcopal cathedral and diocesan museum house a collection of religious art treasures dating back over many centuries. Trier's Roman past is brought to life by the "Bread and Circuses" event. Trier Theatre attracts visitors from all over the region.
Cathedral and diocesan museum
This modern, light-filled museum in Windstrasse is located in a former royal Prussian jail and its exhibits include Christian artwork and depictions of religious customs. The origins of the museum date back to the old lapidarium where the remains of altars, tombs and decorative stone items from the cathedral and the Church of Our Lady were stored.
Bread and Circuses
The Roman town of Trier with its unparalleled collection of Roman buildings is the ideal venue for this authentic, large-scale event. Ancients sports such as wrestling and bare-knuckle fighting as well as "genuine" gladiatorial battles are staged in the arena just as they were in ancient Rome. Visitors can experience everyday life in Roman times in the grounds of the imperial baths where a legionaries' camp, craft market, taverns and inns and ancient theatrical, musical and dance shows authentically recreate the Roman way of life.
Trier Theatre
This well-attended multifunctional theatre, which is valued throughout the whole region, has a resident ensemble and puts on about 230 performances a year with a programme ranging from the traditional to the ambitious.
Top of page
Map of Germany
Map showing all of Germany's TOP travel destinations...
Click here!
Search in surrounding area