Places of interest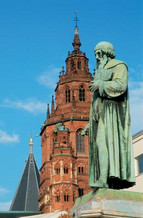 A number of impressive buildings, monuments and museums serve as reminders of the town's colourful history. Magnificent baroque buildings, palaces and the imposing cathedral date back to the time when the Prince Electors ruled here. With Augustinerstrasse, a vibrant shopping street and heart of the old town, and the picturesque Kirschgarten and Leichhof squares, the old quarter is an ideal starting point for a stroll around the town.
St. Martin's Cathedral
This imposing cathedral has shaped the history of the town. The red-tinted sandstone mountain of a cathedral, which has grown over the centuries, forms a striking contrast to the light stone of the Romanesque Gotthard Chapel. Inside, the cathedral houses an important collection of cultural and historical treasures including gravestones dating from the 13th to the 18th centuries.
Electoral Palace
Just below the Rhine bridge lies the former Electoral Palace. Originally built as a residence for the Electors and Archbishops, this early baroque building now houses the Romano-Germanic Central Museum exhibition. With its early baroque façade, the palace stands out from the buildings of the former House of the Teutonic Order (
Deutschordenhaus
) and New Armoury (
Neues Zeughaus
).
St. Stephen's Church
Situated in the south-west of Mainz, the Catholic Church of St. Stephen looks down over the old quarter. It was built in 990 by Otto III as an "imperial place of prayer" for peace. Its most awe-inspiring features include the windows designed by artist Marc Chagall depicting themes from the Old and New Testament, a striking blend of meditative blue interspersed with tones of green, yellow and red.
Top of page
Map of Germany
Map showing all of Germany's TOP travel destinations...
Click here!
Search in surrounding area