Shopping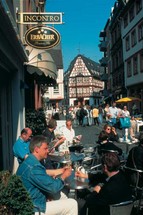 In addition to the half-timbered buildings, there are also many interesting shops to explore in the romantic old quarter. If you are looking for something special, you'll be sure to find it on Augustinerstrasse or in the small lanes around Kirschgarten square, Schönbornstrasse or Grebenstrasse. The shops in the old quarter offer a range of high-quality goods, from jewellery, fashion, books and toys to art, leather goods and fine wines.
Schillerplatz/Ludwigsstrasse
Between Langgasse, Schillerstrasse and the side streets, you'll find a good selection of specialist outlets selling high-quality goods in a sophisticated setting. After visiting the exclusive shops on Schillerplatz, enjoy a leisurely stroll down the spacious Ludwigsstrasse into the heart of the town.
Augustinerstrasse and the Augustinian church
Augustinerstrasse is one of the finest places in Mainz's old quarter for a gentle stroll. This was the town's main shopping street until well into the 17th century. Today, you can soak up the atmosphere in its small shops and boutiques, cafés, pubs, restaurants and wine taverns. Towering above the other buildings is the baroque façade of the Augustinian church.
Market
Mainz cathedral and market square stand in the heart of the town centre. With its fresh produce and lively atmosphere, the market on Tuesdays, Fridays and Saturdays is one of the region's most beautiful. Around the market and Gutenberg Museum, you'll find department stores and specialist shops offering views of the cathedral. Schusterstrasse runs between the market and the pedestrian precinct.
Top of page
Map of Germany
Map showing all of Germany's TOP travel destinations...
Click here!
Search in surrounding area