Permanent exhibitions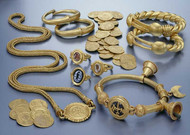 Permanent exhibitions offer an interesting insight into Mainz's history and a range of specific themes. Exhibits at the Romano-Germanic Central Museum include spectacular finds ranging from the Stone Age to the early Middle Ages. Mainz Carnival Museum takes a look back over more than 160 years of carnival history.
Romano-Germanic Central Museum
The museum enjoys an excellent reputation that extends well beyond Germany's borders. The museum has recently preserved objects found on the South Tyrolean Iceman, restored relics discovered in a Peruvian royal grave, and even set up an office in the Chinese town of Xian where experts from Mainz are closely examining important metallic finds.
Mainz Carnival Museum
At the carnival museum in Mainz, you'll find out everything there is to know about the town's carnival celebrations: jester guilds, guards' uniforms and costumes, historical pictures and recordings, excerpts from the TV sessions entitled "Mainz, wie es singt und lacht" (how we sing and laugh in Mainz), and political aspects.
Top of page
Map of Germany
Map showing all of Germany's TOP travel destinations...
Click here!
Search in surrounding area