Events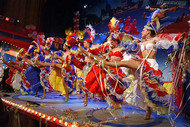 A number of festivals are held in the cheerful, cosmopolitan town of Mainz all year round. The liveliest of them all is Carnival. The whole of Mainz goes wild with excitement on the streets and in the bars and halls, the celebrations lasting for five whole days. The revellers link arms and sway along, singing and dancing, and showing little or no respect for authority.
Mainz Carnival
Mainz is famous around the world for its "Fastnacht" carnival, the climax of which is Rose Monday, when the whole of Mainz takes to the streets, transforming the town centre into a colourful hive of activity. The Rose Monday carnival procession with its politically-charged floats,
Schwellköppe
(big heads), musical parades, flag carriers and guards makes it way through the streets lined with carousing, dancing crowds.
Mainz Wine Market
Once a year, anyone involved in producing and selling wine, and those who simply enjoy drinking it, meet up in Mainz municipal park and rose garden. Locals and visitors flock to this family-friendly event to celebrate, meet up with friends and sample some great wines. It's also a great opportunity to make new friends.
Mainz Christmas market
Mainz's historical market square is bathed in the glow of festive lights. The air is filled with a Christmas pot pourri of roasted almonds, gingerbread, hot chestnuts and mulled wine, creating a magical festive atmosphere that captivates young and old alike. The stresses and strains of everyday life are soon forgotten as you take a leisurely stroll around the fantastic Christmas market in Mainz.
Top of page
Map of Germany
Map showing all of Germany's TOP travel destinations...
Click here!
Search in surrounding area