Nature & greenery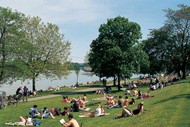 The municipal park and the rose garden attract visitors from May to July, and also afford magnificent views over the Rhine and Main. In the summer months, the promenade along the banks of the Rhine and the beer gardens on the Malakoff terrace are the perfect places to go for a stroll or simply sit and watch the world go by.
Municipal park
The origins of the municipal park (
Stadtpark
) lie in the collegiate and abbey gardens of St. Alban's Benedictine abbey. After 1700, the Elector Lothar Franz von Schönborn built his "Favorite" summer residence on this site, a terraced park in the baroque style based on the designs of French and Italian gardens of the time.
Rose garden
The rose garden has several thousand roses for visitors to admire. The large lawns with their enormous trees provide a great place to relax and while away the hours. One of the garden's special attractions is the beautifully designed flower clock.
Gonsenheim game park
The park was originally designed as an enclosure for deer and wild boar. A number of cages housing smaller animals were subsequently added. Today, the park also has a large enclosure for goats and sheep, a water fowl park, red deer, fallow deer, mouflon sheep and wild boar.
Top of page
Map of Germany
Map showing all of Germany's TOP travel destinations...
Click here!
Search in surrounding area