Suggested excursions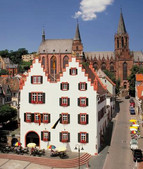 Rheinhessen, the largest wine-growing area in Rhineland-Palatinate, lies between Bingen, Mainz, Worms and Alzey. The attractive wine-growing town of Ingelheim and the Gothic Church of St. Katharine in Oppenheim are just a few kilometres away. The studios of the Zweites Deutsches Fernsehen (ZDF) broadcasting corporation are also well worth a visit.
Ingelheim
Just over 15 kilometres west of Mainz above the left bank of the Rhine is the old wine town of Ingelheim with its castle church and the ruins of an imperial Carolingian palace.
St. Katharine's Church in Oppenheim
Dating from the 13th to the 15th century, St. Katharine's Church in Oppenheim (20km south of Mainz) is well worth a visit. It is one of the most important Gothic buildings on the Rhine. Other attractions include the German Winegrowing Museum.
ZDF studios on Lerchenberg hill
The ZDF studios are situated on Lerchenberg hill on the outskirts of Mainz. Many visitors come here to get a glimpse behind the scenes at one of the leading German TV stations. The TV station's editorial and administrative departments are housed in a 125-metre long and 19-metre wide building with 14 storeys that stands 70 metres high and is clearly visible from afar.
Top of page
Map of Germany
Map showing all of Germany's TOP travel destinations...
Click here!
Search in surrounding area