Places of interest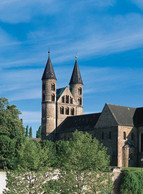 Throughout its colourful history this town on the River Elbe has been subjected to devastation and destruction and enjoyed frequent periods of prosperity, and this is still very much reflected in the current townscape. Architectural monuments dating from all the historical periods such as the imperial cathedral and Monastery of Our Lady hark back to the former glory and wealth of this former centre of imperial power.
Gothic Cathedral
Magdeburg's Cathedral of St. Katherine and St. Mauritius, founded by Emperor Otto I and Germany's oldest Gothic religious building, sits in splendour on the
Domfelsen
(cathedral rock). Along with the Ottonian imperial palace, the cathedral forms the heart of what is referred to as the "third Rome". When Otto I died in 973, he was laid to rest in the cathedral.
Monastery of Our Lady
The beautiful Monastery of Our Lady is just one of the reasons why the regional capital is also lovingly referred to as the 'pearl of the Romanesque Route'. The monastery is situated to the north of Domplatz square. It is the town's oldest preserved building and one of Germany's most important Romanesque sites.
The Magdeburg Horseman
This extremely important historical attraction dating from 1240 stands in front of the town hall on the Old Market Square (Alter Markt). The Magdeburg Horseman is considered to be the oldest post-antiquity equestrian statue on German soil. However, the figure in front of the town hall is just a copy. The original can be found in the town's Cultural History Museum.
Top of page
Map of Germany
Map showing all of Germany's TOP travel destinations...
Click here!
Search in surrounding area