Nature & greenery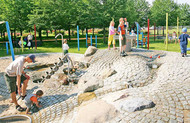 In one of Germany's greenest towns, the numerous parks and gardens - some historical, some modern - provide inviting and stimulating recreational oases. Locals and visitors can recharge their batteries in the Rotehorn municipal park, one of the most beautifully situated English-style country parks in Germany, in the Elbauen Park or in Herrenkrug Park with its ancient woodland set amid magnificent scenery.
Rotehorn municipal park
The municipal park is one of the most popular places with locals. On summer weekends, in particular, people love to come here to go rowing on Adolf-Mittag lake, sit in the lakeside beer garden, go jogging on the park's footpaths or simply enjoy a stroll.
Elbauen Park
Elbauen Park is one of the region's most beautiful destinations for an excursion with a variety of attractions to offer. These include the former shooting walls, tropical butterfly house and wonderful lakeside stage. However, the park's most striking attraction is the 60-metre-high Millennium Tower.
Herrenkrug Park
Situated in the Elbe meadows on the northern outskirts of the town, this is one of the most beautiful and natural of the town's parks. Back in the 17th century, this area of meadows and pastures became a popular destination for days out with a tavern that was called either the Herrenkrug or Neuer Krug.
Top of page
Map of Germany
Map showing all of Germany's TOP travel destinations...
Click here!
Search in surrounding area