Museums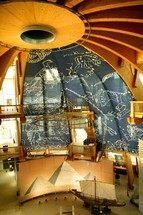 Besides the contemporary art museum in the Monastery of Our Lady, other important museums include the Cultural History Museum with its exhibition commemorating Kaiser Otto the Great, the man who redrew the map of Europe in the early Middle Ages. The Millennium Tower in Elbauen Park has an equally exciting interactive exhibition covering 6,000 years of science and technology.
Cultural History Museum
Magdeburg's Cultural History Museum is housed in a building designed by Viennese architect Friedrich Ohmann. Opened in 1906, among its artworks and hand-crafted objects are some of the most important antiquities from the city's rich history. The collections include: 400,000 archaeological finds and medieval artefacts, 10,000 local history exhibits, over 11,000 coins and medallions, 1,400 military antiques, 800 pieces of furniture, around 1,100 paintings, 4,000 drawings, 30,000 prints, 10,000 bookplates, 5,000 hand-crafted items, 1,250 textile creations and an extensive library with over 58,000 books. There is also an interesting exhibition of school items from the times of the GDR. Closed on Mondays, guided tours on request.
»
www.khm-magdeburg.de
Millennium Tower
Magdeburg's millennium tower was erected in 1999 in the city's Elbauenpark. At 60 metres high, it is the tallest wooden building in Germany. Originally built for the Federal Garden Show, it has lost none of its fascination and offers visitors an interactive journey through time. There are five floors of exhibition space, plotting the course of mankind over the last 6,000 years. It's a great opportunity to learn about the inventions that have shaped our history, and the individuals behind them. Where else can you find the Pyramids of Giza, a Roman road, a revolving crane from the Middle Ages, Newton's reflecting telescope and ultra-modern glass fibre sensors under one roof? Open from April to October. Closed Mondays except public holidays. Only partially suitable for wheelchairs.
»
www.elbauenpark.de
Museum of Natural History
The origins of Magdeburg's oldest museum date back to the city's Natural History Society, which was established in 1869. Today, the museum's collections consist of more than a quarter of a million exhibits from the fields of geology, mineralogy, palaeontology, botany and zoology. There is a collection dedicated to local wildlife, and visitors can see vividly coloured exotic butterflies and learn about the diverse world of insects. The exhibition "From Amethyst to Cinnabar – the World of Minerals" focuses on the mineralogy of resin, salt minerals, gypsum, precious stones and metals. One of the more popular collections is "Extinct life forms in and between the Ice Ages". It features skeletons of a cave bear and a giant deer. Closed on Mondays.
»
www.magdeburg-tourist.de
Museum of Technology
The Museum of Technology in Magdeburg is housed in a listed factory hall once occupied by the Krupp-Gruson works. Opened in 1995, it showcases machinery and manufactured products as well as information and illustrations. The collection includes engines, metal and woodworking machines, printing and setting apparatus, agricultural machinery, a complete silversmithy and both a lacemaker's and a shoemaker's workshop. There are also regular events taking an in-depth look at technology down the ages. Closed on Mondays, guided tours on request.
»
www.technikmuseum-magdeburg.de
Art Museum in the Convent of our Lady
The Art Museum in the Convent of our Lady, just a stone's throw from the Elbe river in Magdeburg's city centre, is the most important exhibition of contemporary art in Saxony-Anhalt. The collections are housed within the walls of a convent built in the 11th and 12th century and founded by the Archbishop of Magdeburg, Gero. International and German artists featured in the gallery's permanent and special exhibitions include Enrico Castellani, Giovanni Anselmo, Gilberto Zorio, Jenny Holzner, Heinz Brehlow and Leiko Ikemura. There is also a library whose origins date back to 1638. It contains almost 22,500 volumes categorised into 14 subject areas, with theology and philology as the dominant themes. Closed on Mondays, guided tours on request.
»
www.kunstmuseum-magdeburg.de
Top of page
Map of Germany
Map showing all of Germany's TOP travel destinations...
Click here!
Search in surrounding area