Events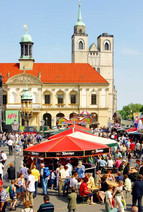 Magdeburg offers a wealth of events throughout the whole year including Magdeburg Town Festival with its "festival mile".
Magdeburg Town Festival
The "festival mile" with its market stalls, show stands, carousels and several different stages runs from the cathedral to University Square. Along the route, visitors can enjoy a varied stage programme by a host of entertainers, including regional radio and TV stations. Excellent musical entertainment is provided by select live bands.
"Snowman Melt"
At Easter, the winter is driven out with a huge Easter bonfire in the Elbauen Park. A bonfire is built using firewood and a snowman made at Magdeburg's theatre workshops is placed on the top. The lighting of the Easter bonfire is said to finally banish winter from the Elbauen Park.
Top of page
Map of Germany
Map showing all of Germany's TOP travel destinations...
Click here!
Search in surrounding area