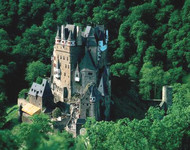 This fairytale castle with its many stacked and interlocking gables and oriels, roofs and miniature towers sits in splendour atop a rocky cliff in the Eltzbach valley. One of Germany's most beautiful castles, it took more than 500 years to build and is still completely intact.
Knights, ladies and noblemen
Colourful half-timbered miniature towers, domed roofs and interlocking oriels add to the romantic atmosphere of this fairytale medieval castle, which sits in splendour on a steep, rocky cliff surrounded by unspoilt countryside. The inner ward is a unique reflection of the castle's remarkable architectural diversity. Over the centuries, the castle has remained completely intact and is still in excellent condition.