Shopping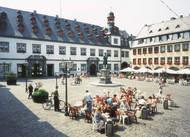 Situated on the Rhine and Moselle rivers, Koblenz is the best place in the region for a stroll or a spot of shopping. There are plenty of shops in its old quarter and town centre.
Koblenz
Take a stroll through the narrow streets and historic squares of Koblenz, which are full of shops, restaurants and cosy bars. Take your time and soak up the historical atmosphere along the way. The Löhr Centre and Löhrstrasse are the town's main shopping areas.
Top of page
Map of Germany
Map showing all of Germany's TOP travel destinations...
Click here!
Search in surrounding area