Places of interest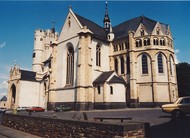 The minster with its mighty towers sits majestically overlooking this charming little country town with its historical town hall and streets lined with romantic timber-framed houses. To the west of the town is Pyrmont Castle. Clearly visible from afar, its towering keep is a reminder of the power of the aristocracy in the Middle Ages. Nearby is the village of Maria Laach with the abbey of the same name, one of Germany's most striking Romanesque buildings.
Maifeld minster
Clearly visible from afar, the mighty towers of Maifeld minster sit on high overlooking the town. The building's remarkable architecture reflects the different styles through all the centuries of the Middle Ages. Inside, you'll be surprised by the incredible wealth of space and the modest dimensions of the rising pillars. The late-Gothic golden altar, the main altar that dominates the chancel, is a masterpiece of medieval wood carving. The ancient wall paintings are a particularly charming sight to behold. They were uncovered during restoration work on the church and have now been successfully preserved.
Pyrmont Castle
Built in the style of the Hohenstaufen era, Pyrmont Castle is set atop a slate outcrop to the west of Münstermaifeld. It was built at the end of the 12th century on Palatine territory by Kuno von Schönburg. The irregular rectangular building with its 25-metre high keep has a dungeon, an armoury and a torture chamber. The interior is furnished with fine antiques.
Maria Laach Abbey
In the village of Maria Laach is the abbey of the same name, founded in 1093 by Count Palatine Heinrich von der Pfalz. Consecrated in 1156, its church is considered one of Germany's most striking Romanesque buildings. Two central towers dominate the complex, each flanked by two further towers. The arched portal with the little devil and the church portico, a highlight of late Romanesque stonemasonry, are particularly noteworthy. The "Laach Paradise" atrium is intended to be a symbolic representation of the Garden of Eden. Inside, you can see the Baldachin high altar and founder's tomb.
Top of page
Map of Germany
Map showing all of Germany's TOP travel destinations...
Click here!
Search in surrounding area