Events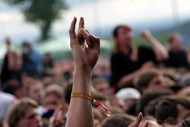 There is certainly no shortage of entertainment, festivals and events throughout the year in the region around Münstermaifeld. The Nürburgring racetrack is legendary. This is where the motorsports elite meet for Formula 1 racing. Thousands of fans also flock to the racetrack every year for the Rock am Ring music festival. The largest music festival in the Rhineland-Palatinate, the Moselle Festival features an impressive range of performances in unusual venues.
Nürburgring: Formula 1 and "Rock am Ring"
The legendary racetrack provides one of the venues for the European Formula 1 Grand Prix every year. Motorsports fans flock to the Eifel region to see their favourite racing drivers in action. The circuit also plays host to the Rock am Ring music festival every Whitsun weekend. Lasting several days, the rock event attracts thousands of visitors, some of whom camp out on the racetrack itself. Rock am Ring is the largest music festival in Germany and one of the largest in Europe.
Moselle Festival
The Moselle Festival presents a host of unforgettable musical experiences at unusual venues. Visitors can enjoy concerts featuring outstanding artists in magnificent settings at around 35 different concert venues along a 150-km stretch of the Moselle between Saarburg and Treis-Karden. Every year, more than 20,000 visitors attend around 60 concerts as part of the Rhineland-Palatinate's biggest and longest music festival.
Wine festivals
A town's wine festival is often the most important event of the year. The streets, lanes and squares are decorated and filled with wine stalls. There are parades through the town, and princesses and queens are crowned. Wine-growing estates and wine cooperatives present their wines at the wine stalls and there are food stalls offering a variety of local specialities. Almost every town and village has its own festival.
Top of page
Map of Germany
Map showing all of Germany's TOP travel destinations...
Click here!
Search in surrounding area