Museums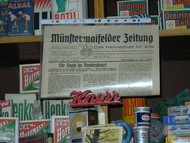 See the past brought to life at the local history museum where a number of old shops, such as a colonial goods store and a bakery, have been lovingly recreated. Visitors can enter and look around each store at their leisure. Exploring the tunnels of the German slate mine under Genovevaburg Castle is always a special treat. The history of slate mining in the Eifel region is illustrated here using a vibrant mix of information and entertainment.
Münstermaifeld's local history museum
A colonial goods store, tobacconist's, barber shop and bakery, as well as a classroom, a cobbler's, a saddler's and an upholsterer's workshop have all been recreated at the "alte Probstei" with great attention to detail. The exhibits on display cover the period from 1900 to 1950/60 and come primarily from the town itself or the surrounding area.
German Slate Mine, Mayen
The largest town in the Eifel region is a centre for the mining and processing of volcanic rock. Beneath Genovevaburg Castle, which dates from the 13th century, is the German Slate Mine. The history of slate mining in the Eifel region from its very beginnings around 2,000 years ago through to the present day is clearly illustrated in the underground tunnels of the mine. The system of tunnels was constructed by miners during the Second World War to provide an air raid shelter for the local people.
Top of page
Map of Germany
Map showing all of Germany's TOP travel destinations...
Click here!
Search in surrounding area