Nature & greenery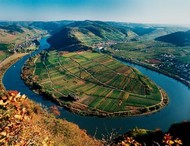 Münstermaifeld is ideally situated for a number of excursions in the romantic Moselle Valley or to the austere landscape of the Volcanic Eifel. Walking through the idyllic Eltz Valley to Eltz Castle is an unforgettable experience.
Moselle Valley
The Moselle Valley between Koblenz and Trier is a romantic river landscape, known throughout the world for its wine, which has also lent the valley its unique character. You'll find idyllic winegrowing villages and vineyards with familiar names, taverns and cultural history at every turn. The Moselle is 545 kilometres long, making it the Rhine's largest tributary. The first vines were planted on the steep slopes by the Romans and the Celts. Riesling is one of the best-known white wine varieties grown here.
Maars
The unique landscape of the Volcanic Eifel is studded with volcanic craters: there are around 240 just on the route between Bad Bertrich, Daun and Ormont on the Belgian border. Nine of these volcanic craters are now filled with water, and they are known as the maars of the Volcanic Eifel. The best-known and largest of these maars - with a diameter of 2.4 kilometres - is Lake Laach, in the east of the region near Mendig. All the maars are strictly enforced nature conservation areas. The dry maars - Strohner Märchen, Mürmes, Dürres Maar and Dreiser Weiher - provide a vital retreat for rare flora and fauna.
Eltz Valley
From Monreal you can walk through the idyllic Eltz Valley and its dense forests, past a number of mills and Pyrmont Castle, to Eltz Castle.
Top of page
Map of Germany
Map showing all of Germany's TOP travel destinations...
Click here!
Search in surrounding area