Suggested excursions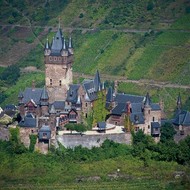 Due to its central location, Münstermaifeld is an ideal base for a number of excursions in the surrounding area. There are many pretty wine-growing villages with timber-framed houses along the Moselle. You can trace the history of the ancient Romans in Trier, Germany's oldest town. With its imposing castle, Cochem is also well worth a visit.
Wine-growing villages along the Moselle
The string of wine-growing towns and villages - from Nennig to Koblenz via Trier, Longuich, Bernkastel-Kues, Traben-Trarbach, Zell, Cochem and Treis-Karden - are delightful places to take a stroll or enjoy a break in one of the traditional
Strausswirtschaften
, inns selling locally produced wine. They are full of the traditional half-timbered houses typical of the Moselle region. Even the smaller villages along the Moselle host their own wine festivals and other traditional festivals. Wine tasting at local cellars is also an important element of any visit to the Moselle.
Trier
A visit to Germany's oldest town is always a real experience. With its Roman Porta Nigra city gate, amphitheatre, Romanesque cathedral, imperial thermal baths and historical old quarter, it attracts visitors from all over the world. The town's history begins around 16 BC when the Romans called it
Augusta Treverorum
. Roman emperors, bishops, electors and prominent citizens all left their mark on the town, as can be seen in its magnificent art treasures and unique architectural monuments.
Cochem
The old quarter is dominated by the late-Gothic imperial castle and is dotted with medieval squares and lovingly restored timber-framed houses – architectural gems that are typical of the Moselle region. But it is not only the fairytale buildings in and around Cochem that remind visitors of its 2,000-year legacy; the town's folk tales and wine traditions are also kept very much alive.
Top of page
Map of Germany
Map showing all of Germany's TOP travel destinations...
Click here!
Search in surrounding area