Places of interest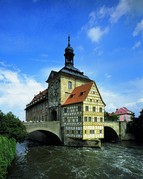 The history of Bamberg's fascinating townscape goes back more than a thousand years. This World Heritage Site was built on seven hills and is often compared with Rome. On one of the hills stands the imperial cathedral with its four towers, the heart of the town and the region's most important architectural monument. Other local attractions include the old town hall in the middle of the river Regnitz, Little Venice and the New Palace with its baroque rose garden.
Cathedral and Bamberg Rider
Set on a hill overlooking the town, the cathedral is one of the most magnificent buildings from the Middle Ages and the most important monument to the transition from Romanesque to Gothic architecture in Germany. Its origins can be traced back to Emperor Henry II who founded the diocese of Bamberg in 1007. In 1237 the third cathedral to be constructed in the town was consecrated. Both of the previous buildings had fallen victim to fire. The cathedral's St. George's or east chancel is the final resting place of Emperor Henry II (1024) and his wife Cunigunde (1033). Pope Clemens II (1047) is buried in the St. Peter's or west chancel. Bamberg Cathedral is best known for the Bamberg Rider (from around 1235), the earliest equestrian statue in Germany since Classical Antiquity. The Christmas altar (1520-25) by Veit Stoss and the magnificent entrance portals are equally fascinating.
Old town hall
The old town hall was built on an artificial island in the middle of the river Regnitz in the 14th century, the only construction of its kind in Germany. At that time the river was the boundary between the merchant and episcopal parts of town. According to local legend neither side could agree on the location of the town hall and so the boundary river appeared to be the ideal compromise. The town hall's façade is painted in a baroque style but the core of the Gothic building of 1463 has been preserved. The adjoining half-timbered
Rottmeister
house (1688) seems to float above the river.
Little Venice
The row of neatly kept historical houses along the river Regnitz is affectionately known as "Little Venice". Most of these lovingly restored half-timbered former fishermen's houses date back to the middle ages. Their balconies and tiny front gardens with mooring points for barges lend a romantic atmosphere to this part of town. In August Little Venice is the setting for the "Sandkerwa" festival with its
Fischerstechen
river jousting contest and Italian evening.
Top of page
Map of Germany
Map showing all of Germany's TOP travel destinations...
Click here!
Search in surrounding area