Art & culture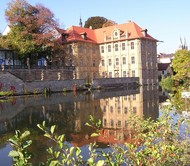 Art and culture is an integral part of life in Bamberg. There are fifteen museums, many of which are of European standing, devoted to a wide variety of subjects and featuring fascinating collections and special exhibitions. The Villa Concordia international arts centre promotes and supports contemporary artists. Exquisite Meissen porcelain is on display at the baroque town hall. Thanks to the Bamberg Symphony Orchestra the town also enjoys a fine reputation as a centre for music.
Villa Concordia international arts centre
The Villa Concordia international arts centre was founded for the promotion and cultivation of the arts. Every year, 12 artists from the areas of music, literature and fine arts are invited to live and work in Bamberg for up to a year. Concerts, readings and exhibitions by these and other world-famous artists take place at the arts centre.
Villa Dessauer - municipal gallery for modern art
Villa Dessauer is a forum for 20th century art and a venue for exhibitions, seminars and concerts. Memorable past events include exhibitions of graphic art from the former East Germany from the Schreiner collection, and Russian contemporary art from the Ludwig collection. Local and regional artists are also exhibited at the gallery.
Ludwig collection
This important and exquisite collection of faience earthenware and porcelain is on display in one of the town's most beautiful buildings, the baroque old town hall. Owned by Peter and Irene Ludwig, co-founders of the Ludwig Museum in Cologne, it has the largest private collection of Strasbourg faience earthenware in Europe and one of the most remarkable collections of Meissen porcelain. The permanent "Baroque Brilliance" exhibition also contains items by other manufacturers such as Nymphenburg and Frankenthal.
Top of page
Map of Germany
Map showing all of Germany's TOP travel destinations...
Click here!
Search in surrounding area