Nature & greenery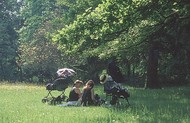 Enjoy nature at its best in Bamberg's gardens and parks. Spend a pleasant and relaxing afternoon strolling through Hain park with its mature trees, natural riverbank meadows and botanical gardens. The New Palace's enchanting rose garden provides a splendid backdrop for the Rose Garden Serenades, a programme of selected pieces of chamber music.
Hain park
Hain park was designed in the style of an English country garden and is both a wonderful municipal park and a European nature reserve. Elector Maximilian IV Joseph of Bavaria had the Mühlwörth area landscaped in 1803. Many nesting birds, bats and rare large beetles can be found in the park. The Hainbad recreation area is set in an idyllic location on the banks of the river Regnitz and is a great place for sunbathing and swimming.
Rose garden
Prince bishop Friedrich Karl of Schönborn had this garden laid out according to a uniform, symmetrical design by the German architect Balthasar Neumann. The axial system of paths and circular flowerbeds has remained largely intact. The sculptures were created in 1760/61 by the Bamberg court sculptor Ferdinand Titz. Every year various concerts are held in the rose garden's splendid surroundings.
Top of page
Map of Germany
Map showing all of Germany's TOP travel destinations...
Click here!
Search in surrounding area