Food & drink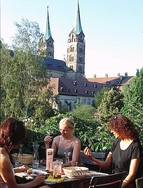 Beer,
bratwurst
, pretzels and Franconian wine. Beer plays a special part in the life of the town as Bamberg and the surrounding region has the highest number of breweries in the world. The almost 100 small and medium-sized breweries produce around 300 different beers. Bamberg
Rauchbier
(smoked beer) is well-known throughout Germany and the rest of the world. Bamberg is also famous for its
bratwurst
.
Schlenkerla brewery
The historical Schlenkerla brewery tavern can be found at the heart of Bamberg's old quarter, at the foot of its great cathedral. According to custom the Original Schlenkerla
Rauchbier
is still drawn direct from the oakwood cask. It is a very dark, smoky, bottom-fermented strong beer with 13.5% original gravity (5.4% alcohol by volume). The Bamberg knuckle of pork with Rauchbier sauce is also legendary.
Restaurant at the Romantik Hotel Weinhaus Messerschmitt
This is an elegant rustic restaurant with a pretty courtyard terrace serving mainly local and regional dishes with an emphasis on seasonal ingredients. The vegetables come from local gardens and the fish from the Regnitz and Main, and little rivers of Franconian Switzerland. Meat and game are also sourced locally.
Top of page
Map of Germany
Map showing all of Germany's TOP travel destinations...
Click here!
Search in surrounding area