Museums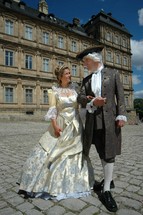 Two of the most important museums in Bamberg are undoubtedly the New Palace with its exquisite picture gallery and the Diocesan Museum where the cathedral treasury is kept. The Franconian Brewery Museum is devoted to the long tradition of beer making in Bamberg.
New Palace
This four-winged baroque renaissance palace houses the state library and Bamberg state gallery. Its construction was begun by prince bishop Johann Philipp von Gebsattel and continued by prince bishop Lothar von Schönborn. Visitors to this magnificent sandstone building will be impressed by its rooms steeped in history and valuable works of art. You can view living quarters and state rooms, the Imperial Hall, the Chinese room and collections of valuable paintings. Amongst the artwork on display at the Old German Gallery are masterpieces by Lucas Cranach Snr. and Michael Wohlgemut. The library contains manuscripts and printed books from the former monasteries and abbeys as well as from the old university. The most valuable books can be traced back to the founder of the diocese, Emperor Henry II.
Diocesan Museum and cathedral treasury
The chapterhouse adjoining the cathedral, built in 1731 according to a design by Balthasar Neumann, currently houses the rich cathedral treasury and a remarkable collection of well-preserved liturgical vestments from the 11th century. Most striking are the medieval fabrics, including Henry II's "star mantle", his wife Cunigunde's choir mantle and bishop Gunther's byzantine silk shroud. The statues of Adam and Eve from the Adam's entrance portal, the first naked figures in German art, are also kept here. The valuable collection of sculptures in the lapidarium, located in the cloister, provides an insight into how the imperial cathedral used to be decorated.
Franconian Brewery Museum
You can learn about the Franconian brewing tradition in the historical vaulted cellars of a former Benedictine brewery. The museum houses a collection of historical brewing equipment and illustrates the production process from malt production to the finished beer. Visitors can add practical experience to their theoretical knowledge in the adjoining beer garden.
Top of page
Map of Germany
Map showing all of Germany's TOP travel destinations...
Click here!
Search in surrounding area