Events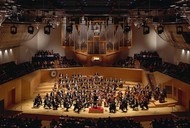 Bamberg has as a great deal to offer, from theatre and
kabarett
, exhibitions and festivals to concerts by the Bamberg Symphony Orchestra. Highlights include the Sandkerwa festival set against the picturesque backdrop of "Little Venice", the summer concerts by the Bamberg Symphony Orchestra and the Nativity scene trail at Christmas time.
Bamberg Symphony Orchestra
Bamberg is renowned for its world-class symphony orchestra, which is also the Bavarian State Philharmonic Orchestra. You can enjoy the finest classical music at open-air concerts in cathedral square and the Bamberg Summer Evening concert series.
Sandkerwa festival
The medieval fishermen's houses of Little Venice form the backdrop to this unusual five-day summer festival. One of the highlights is the Italian Evening when boats decorated with Chinese lanterns and both of the Bamberg gondolas drift past the illuminated buildings. On the last day of the festival, after the traditional
Fischerstechen
river jousting competition, there is a firework display high up on Michaelsberg hill.
Nativity scene trail
In the run-up to Christmas and during Christmas week you can visit around 35 different Nativity scene displays set up in churches, museums and several squares in the town.
Top of page
Map of Germany
Map showing all of Germany's TOP travel destinations...
Click here!
Search in surrounding area