Suggested excursions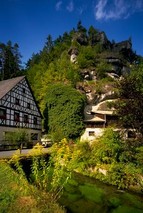 Franconian Rome, as Bamberg is also affectionately known, is the ideal base for many excursions into the surrounding area. Franconian Switzerland lies between Bamberg, Bayreuth and Nuremberg, and its lush valleys, impressive dolomite cliffs and fairytale dripstone caves make it one of the most beautiful regions in Germany. On the Porcelain Route you can learn more about the production of this "white gold". If you want to experience Bamberg from a completely different perspective why not take a trip along the river Regnitz.
Experience Bamberg from the river
You can experience the world heritage site of Bamberg from an unusual perspective - the river Regnitz. Guided canoe trips take you along Bamberg's most beautiful waterways, passing right through Hain park, the last lock still in operation on the old Ludwig-Danube-Main canal and the town's old quarter. True romantics can take a magical trip on a real Venetian gondola.
Franconian Switzerland
Plunging valleys, idyllic little rivers and impressive rock formations are characteristic of Franconian Switzerland, a paradise for cyclists, canoeists and rock climbers. Countless hills and dripstone caves are just waiting to be discovered. The beer served in well over 100 little breweries is always freshly pulled and a real pleasure to drink.
Porcelain Route
You can discover the secret of the "white gold" along the Porcelain Route. This 550km long scenic route runs from Bamberg to Bayreuth through northeastern Bavaria. Around 80% of German porcelain is manufactured in this centre of the porcelain industry, home to famous manufacturers such as Hutschenreuther, Rosenthal, Goebel, Kaiser and Seltmann. During workshop and museum visits you can gain an insight into how porcelain is moulded, fired, painted, decorated and glazed.
Top of page
Map of Germany
Map showing all of Germany's TOP travel destinations...
Click here!
Search in surrounding area