Places of interest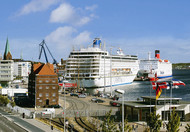 From the 67-metre-high tower of the town hall in the centre of Kiel, you can enjoy views of the firth and the town, including the Hindenburgufer promenade, ministerial buildings, Kiel Institute for World Economics and the marina, as well as the Hörn bridge, a miracle of technology right in the town centre. Or simply stand by the harbourside and soak up the nautical atmosphere.
Kiel harbour
On a tour of the harbour on one of the firth boats, lasting around two and a half hours, you'll learn how important Kiel harbour is. Ferries and freight ships leave here for a number of other ports in the booming economic region around the Baltic.
From the old quarter to Kiel Canal
Attractions in the old quarter include the Church of St. Nicholas on the Old Market Square with Ernst Barlach's
Geistkämpfer
(The Ghost Fighter) sculpture. To the west of the market is the "Kleiner Kiel" lake, an offshoot of the firth that forms a semi-circle around the old town. The Maritime Museum, located in a former fish auction hall, and the historic vessels in the museum harbour are also well worth seeing. Kiel Canal is the world's busiest man-made waterway with a number of locks that you can visit.
"Gorch Fock" - large sailing ship used for training
The rear of the navy's training ship, the famous "Gorch Fock", is decorated with the crest of its home port, Kiel. This "ambassador in white" travels all over the world. The ship is extremely stable due to the more than 300 tonnes of iron ballast in its hull. When the large fleets come together for Kiel Week at the Tirpitzhafen naval base, thousands of visitors come to enjoy the "open ship" events.
Top of page
Hotel search

Looking for an accommodation?
Search and book hotels in Germany »
Map of Germany
Map showing all of Germany's TOP travel destinations...
Click here!
Search in surrounding area