Events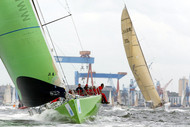 There's always a good reason to visit Kiel. There are a number of rock, jazz and classical concerts, sailing events and children's activities all year round. And of course Kiel Week - the largest sailing event in the world, and Schleswig-Holstein Music Festival - an outstanding celebration of international classical music.
Kiel Week
The social and cultural highlight of the year welcoming more than 2,000 boats and 5,000 sailors, this sailing event and exhilarating summer festival - on Kiel's coast, in the town centre and at the Olympic harbour at Schilksee lake - is famous around the world. Visitors flock here from all over the globe to experience this fantastic event and get close to the action, sailing alongside the regatta.
Schleswig-Holstein Music Festival
This festival of international classical music takes place in Schleswig-Holstein and Hamburg and features around 120 concerts staged in more than 40 venues, each with their own special atmosphere. These include delightful country estates, castles, palaces, churches, manor houses, large barns and stables. More than a dozen concerts take place at churches, auditoriums and the Ostseehalle hall in Kiel.
Museum Night in Kiel
Museums and galleries in Kiel's town centre stay open until late into the evening, offering a programme of cultural events.
Top of page
Hotel search

Looking for an accommodation?
Search and book hotels in Germany »
Map of Germany
Map showing all of Germany's TOP travel destinations...
Click here!
Search in surrounding area