Food & drink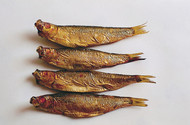 Sprats are a typical Kiel speciality. This small smoked fish is best eaten freshly smoked and whole. Kiel also has an excellent choice of traditional fish restaurants, international restaurants and gourmet cuisine.
September
A modern restaurant offering a range of international dishes. Dining in the conservatory or fireside lounge is a particularly enjoyable experience.
"Zum Hirschen" Restaurant in Lüneburghaus
This delightful little gourmet restaurant is situated on the first floor of Lüneburghaus in the old town. The restaurant's evening menu features gourmet cuisine and traditional regional dishes. Extensive wine list.
Top of page
Hotel search

Looking for an accommodation?
Search and book hotels in Germany »
Map of Germany
Map showing all of Germany's TOP travel destinations...
Click here!
Search in surrounding area