Art & culture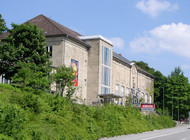 Kiel's Summer of Culture festival, the acclaimed Kiel Kunsthalle art gallery, Schleswig-Holstein Music Festival and Kiel Week regatta are important elements of the rich and varied cultural scene on offer in Schleswig-Holstein's capital. The town's theatrical collection and Hebbel collection are a piece of theatre history.
Theatrical collection and Hebbel collection
The collection includes a large number of theatre programmes from a variety of different venues. A large part of the collection consists of photographs documenting various productions put on by Kiel Theatre. The theatrical collection also includes many manuscripts by literary figures, artists, theatre directors and composers of the 19th century.
Kiel's Kunsthalle art gallery
The collection on display at Kiel's Kunsthalle art gallery consists of works stretching back over six centuries, with the emphasis on 19th and 20th-century art. The collection includes paintings, sculptures, object art, photography and video.
Summer of Culture in Kiel
With numerous concerts, theatrical events, readings, exhibitions, lectures and festivals, there's great entertainment for people of all age groups. In addition, there is a whole series of packages aimed at bringing visitors closer to Kiel and its outlying districts, buildings and parks.
Top of page
Hotel search

Looking for an accommodation?
Search and book hotels in Germany »
Map of Germany
Map showing all of Germany's TOP travel destinations...
Click here!
Search in surrounding area