Suggested excursions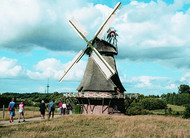 Kiel is surrounded by a holiday region with beaches, sailing areas and Kiel Canal on its doorstep. On a trip along the firth to the Baltic resort of Laboe, you'll get a glimpse of military naval history. Other attractions include the high railway bridge over Kiel Canal with Germany's only aerial ferry.
Trip along the firth to Laboe
Take the ferry to Laboe to get a glimpse of German military naval history. The striking Navy Monument built in the shape of a ship's stern is a memorial to the marines that died in both world wars. From the viewing platform, visitors get a magnificent panoramic view of Kiel Firth. The U-boat on the beach shows how the crews lived and worked in this cramped environment during the Second World War.
Schleswig-Holstein Open-air Museum in Molfsee
The open-air museum in Molfsee, 6 kilometres from Kiel, consists of a number of ancient agricultural buildings including crofts, mills, stores and barns. In the workshops, visitors can watch demonstrations by basket weavers, weavers and potters.
High railway bridge
This 42-metre-high railway bridge crosses Kiel Canal at Rendsburg-Büdelsdorf. The aerial ferry which travels back and forth across the canal, hovering over the water attached to the bridge by cables, is the only one of its kind in Germany. Built to carry both vehicles and passengers, it is now under a preservation order.
Top of page
Hotel search

Looking for an accommodation?
Search and book hotels in Germany »
Map of Germany
Map showing all of Germany's TOP travel destinations...
Click here!
Search in surrounding area