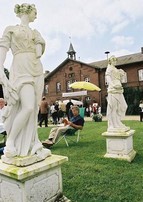 Every year thousands of people flock to Schleswig-Holstein to hear classical music performances played across a variety of different venues, in what ranks as one of the highest-calibre classical music events in Europe.
Europe's finest classical music festival
Every year the spotlight falls on music from a different country ensuring this music festival always has something new to offer. Held in the region sandwiched between the North Sea and the Baltic, the setting for the festivities could not be more eclectic, with breathtaking castles and palaces, magnificent churches and impressive shipyards. Deals and packages with hotels and restaurants help make this event an experience for all the senses.