Places of interest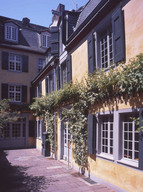 Beethoven House has the world's most extensive collection of Beethoven exhibits and attracts large numbers of visitors every year. The old quarter has impressive buildings on much-admired squares: the rococo-style Old Town Hall on Marktplatz (market square), the bronze Beethoven statue on Münsterplatz (minster square) and the beautiful Romanesque minster to name but a few. Poppelsdorf Palace is a magnificent former Electors' residence in the south of the city.
Beethoven House
At the centre of Bonn, the house where Beethoven was born has become a place of pilgrimage for music lovers from all over the world. It is the only house in Bonn to have been occupied by the Beethoven family which is still preserved today. The 150 original exhibits reflect his life and works, and include his famous portrait and his last grand piano.
The old quarter: Old Town Hall, minster basilica and Beethoven statue
The baroque Old Town Hall dominates the market square. The steps with the gilded railings have been the scene of many historical events and provide the backdrop for the "Bonn Summer" open-air cultural festival. Bonn is also historically the home of the German post office. In front of the post office building - a masterpiece of baroque architecture - a much photographed bronze statue of Ludwig van Beethoven has been erected. The Romanesque Bonn minster stretches up towards the heavens. It was completed at around the time the foundation stone for Cologne Cathedral was being laid (1248).
Poppelsdorf Palace
The magnificent palace was completed by baroque architect Balthasar Neumann. It has four wings arranged around a round courtyard with covered walkways and provides a fitting backdrop for the "Poppelsdorf Palace Concerts" held here each summer. The palace and its grounds were given over to the University of Bonn in 1818 and now house the university's Mineralogical Museum and Botanical Garden.
Top of page
Map of Germany
Map showing all of Germany's TOP travel destinations...
Click here!
Search in surrounding area