Suggested excursions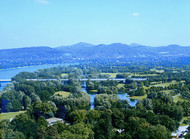 The region around Bonn offers a wealth of delightful possibilities for excursions into the idyllic Siegtal valley, the romantic Siebengebirge hills or the walking and wine-growing paradise along the river Ahr. Phantasialand theme park offers entertainment for all the family.
Siebengebirge hills
The densely wooded Siebengebirge area with more than 40 hills is dominated by the fabled Drachenfels ruins. The romantic castle ruins and fascinating Drachenburg Castle are jewels of High Romanesque architecture and a popular destination for days out.
The romantic Rhine
A dream of a river valley set between the Rheingau and the Siebengebirge hills: the very embodiment of the romance of the Rhine with mighty castles, towering cliffs, hillside vineyards and picture-postcard little villages. At the end of the 18th century, English painters and writers discovered its beauties and their works have since inspired many generations of travellers to visit.
Phantasialand
The Phantasialand theme park is a fun day out for the whole family. Fans of white-knuckle rides, dreamy romantics, show lovers, speed kings and horror seekers -Phantasialand has something for everyone, no matter what the weather, with more than 70% of the attractions under cover.
Top of page
Map of Germany
Map showing all of Germany's TOP travel destinations...
Click here!
Search in surrounding area