Food & drink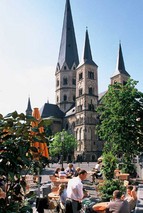 In a city like Bonn, it comes as no surprise to find that ethnic diversity is as much a part of the restaurant scene as regional Rhenish cooking or dishes influenced by the Eifel and Hunsrück region. The French invaders also left their culinary mark. The brew-pubs and beer gardens, the wine taverns along the banks of the Rhine and the pavement cafés beneath the shady plane trees all exude local colour.
Brauhaus Bönnsch
The Bönnsch is a classic example of the very popular hostelries that serve home-brewed beer: quaint, rustic and traditional. The brewery makes "Bönnsch" beer, the perfect accompaniment to many Rhenish specialities. The sociable atmosphere can be enjoyed in the brewery and bar, or even in the malthouse which can be hired for parties of up to 70.
Halbedel's Gasthaus
Creative, fresh cooking from the head chef and proprietor.
Grand Italia
One of the classic Italian restaurants with stylish decor and a wide range of home-made pasta dishes. The restaurant also serves excellent fish and meat dishes. An absolute must to round off a wonderful meal is the zabaglione, freshly whipped up at your table.
Top of page
Map of Germany
Map showing all of Germany's TOP travel destinations...
Click here!
Search in surrounding area