Events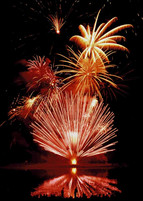 The International Beethoven Festival is held every year in September and October and features more than 50 world-class concerts. The Rheinkultur summer festival at the Rheinaue park is another firm fixture in the cultural calendar. Admission is free. From May to September, international stars perform at open-air concerts on the square outside the Federal Art Gallery and the Bonn Art Museum.
Rhine in Flames
When 2,000 red Bengal lights bathe the famous sights of the Rhine and the riverside promenades between Bonn and Linz in a festive glow on the first Saturday in May, the illusion is created of the "Rhine in Flames". On land or on board one of the 60 cruise boats, the spectacular firework event in Linz, Remagen, Bad Honnef and Bonn captivates tens of thousands of people every year.
The International Bonn Beethoven Festival
The Bonn Beethoven Festival has its origins in the three-day music festival staged to celebrate the unveiling of the Beethoven memorial in 1845. With around fifty concerts by international artists over a two to four week period between mid September and mid October each year, the Bonn Beethoven Festival has become a major musical event in Bonn and the surrounding region.
The Museum Mile Festival
Every year, the museums along Bonn's museum mile join together to celebrate the Museum Mile Festival. The German Museum in Bonn, the Art and Exhibition Hall, the Art Museum, the House of History and the Koenig Museum stage a varied four-day programme with lots of music, art, culture, special guided tours through the exhibitions and interactive technology.
Top of page
Map of Germany
Map showing all of Germany's TOP travel destinations...
Click here!
Search in surrounding area