Contact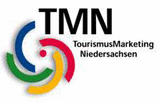 Nature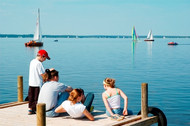 Lower Saxony is a region full of contrasting scenery, from the coastal mudflats to the Harz mountains. Its incredible countryside provides the setting for an unforgettable experience for keen walkers, cyclists, water sports enthusiasts and riders, in particular.
The Lower Saxony Wattenmeer is one of the largest areas of wetland in the world. The Lower Saxony National Park, which by itself covers an area of 278,000 hectares, offers protection to the Wattenmeer, the coastal area of mudflats between the Ems and Elbe rivers, as well as to the offshore East Frisian islands. This fascinating landscape also consists of salt marshes and dunes.
Germany's most northerly highland region, the Harz mountains also cover parts of Saxony-Anhalt and Thuringia as well as Lower Saxony. The Harz mountain scenery is a remarkable mix of deeply indented valleys, hills covered with large expanses of deciduous and coniferous forests, sheer cliffs, gently sloping hills, colourful mountain meadows and crystal-clear lakes. Sections of the Harz mountains are also protected by a national park.
The landscape of the Steinhude Lake Nature Reserve is dominated by wide expanses of moorland, lake shores, forests and greenery. The nature reserve is named after the largest lake in northwest Germany, which measures approximately 30 square kilometres. With its scenic diversity and fantastic range of water sports, Steinhude Lake Nature Reserve has become an extremely popular leisure destination.
Top of page
Map of Germany
Map showing all of Germany's TOP travel destinations...
Click here!
Highlights in brief
Hannover
State capital, trade fairs, Herrenhausen Gardens, tropical rainforest house Lüneburg
Salt trading town, salt museum
Hamlyn
Weser Renaissance architecture, Pied Piper hall
Goslar
UNESCO world heritage site, imperial palace, Rammelsberg ore mines
Osnabrück
Town where peace was made after the Thirty Years' War, botanical gardens, palace, town scales, museum, Terra.vita nature reserve
Papenburg
Seaport, Meyer shipyard, fen colony, museum
Wolfsburg
VW's Autostadt exhibition complex, palace
Walsrode
Largest bird park in Europe
Neustadt
Steinhude Lake with Wilhelmstein island, Mariensee abbey, castle
Soltau
Heidepark amusement park