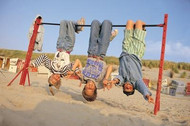 The North Sea really is remarkable. At times it isn't there at all. It comes and goes to the rhythm of the tides. At low tide the sea bed is exposed to reveal slimy mudflats with a few water channels running here and there. This North Sea coastal area - Wattenmeer - is a national park, the only one of its kind in the world. You can do something rather unusual here - you can walk on the sea bed. All the East Frisian islands offer guided walks across the mudflats. Venturing independently onto the mudflats can actually be very dangerous and is much less fun than having an expert guide with you. Your guide has lots to tell you about this natural environment and the amazing animals that thrive here, such as the lugworm, and will regale you with all kinds of anecdotes.
The seven East Frisian islands in the Lower Saxony Wattenmeer National Park are strung out like pearls just a few kilometres off the North Sea's southern coast. You can take boat trips out to the islands from many of the picturesque marshland towns along the coast between Emden and Otterndorf, between the Ems and the Elbe rivers. With the exception of the islands of Borkum, Norderney and Langeoog, ferry services are dependent on the tides. Planes - unaffected by the tides - also commute between the mainland and the islands, except for Spiekeroog.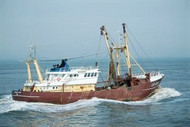 Borkum is the most westerly and the largest (36 square kilometres) of the East Frisian islands. It has a sandy beach stretching for 20 kilometres. Thanks to the Gulf Stream, Borkum's climate is mild and the air is especially low in pollen but high in iodine. There are around 130 kilometres of narrow, winding paths snaking their way through the island's lush vegetation. Sea buckthorn grows by the wayside, its orange-red fruits like bright splashes of colour against the dense foliage of the box trees. The coast lends itself to all kinds of water sports, and the fascinating dunes are ideal for touring on foot or by bike.
The people of Juist call their island Töwerland (magic land). Cars are not allowed on the island and there is a wonderful 17 kilometre beach. Juist is the perfect blend of all four elements: earth, fire, air and water. Earth - fine North Sea sand all over the island. Water - both salty and fresh. Lake Hammersee is the largest fresh water lake on any of the seven islands. Fire - in the morning, when the sun comes up over the mainland and turns the gently rippling Wattenmeer a beautiful purply red. In the evening, when the glowing sun sinks into the sea in the west and throws a gentle light across the waves. Air - crystal clear, low in pollen and deliciously tangy.