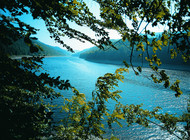 The Harz Mountains rise like an island above the North German Plain, at the borders of Saxony-Anhalt, Lower Saxony and Thuringia. Not only is this a very ancient mountain range; it is also the highest in Germany north of the River Main, the tallest peak being Mount Brocken (1,142 metres). The Harz is a magnificent landscape, a combination of wide plateaus 600 metres and more in altitude, a central highland region whose rocky peaks form bizarre shapes, mountain lakes, high moorland and deeply valleys like ravines. The mountain streams, waterfalls and large reservoirs here offer virtually every kind of water sport imaginable.
From a bird's eye view, the Harz is like a table mountain with its edges dropping away. Few places are better suited to studying the various stages of geological evolution. The Oker valley, in particular, is widely known for its fascinating rock formations. Alongside the Oker reservoir, Romkerhall waterfalls, which cascade from a great height, are one of the most photographed attractions in the Oker valley.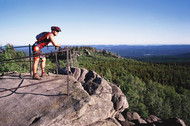 People refer to the Harz as an "area of classical geology" and also as "silver country". It certainly has everything it takes to set the pulse of any amateur geologist racing. The splendid, colourful half-timbered buildings in the picturesque towns reflect the region's former wealth. Walkenried Abbey in the southern Harz is further evidence of a magnificent history. The abbey was handed over to the Cistercians in 1127 and was one of the richest and most powerful in Germany in its heyday.
There are many castles, palaces and religious buildings from the days of the Ottonians in the Harz, as well as a number of Romanesque architectural gems. You'll find a whole variety of things to see and do in the region, including discovery tours in the national parks where you can lie in wait for bats, as well as trekking tours, DIY raft tours, rock climbing, inline skating, cycling and horse riding.