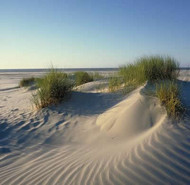 East Friesland is the region between the Dollart inlet and Jadebusen bay. It is an extensive, very varied area that comprises the Emsland, Ammerland, Oldenburg Münsterland, Bremen (city and federal state) and the Lower Elbe. Seafaring, fishing, farming and town life have all influenced the North Sea coastal region in the north-west of Germany. Traditional customs are kept up even today. The North Sea, the never-ending coastal mudflats, the dikes with their lighthouses, the lush meadows and the inviting beaches are all part of the picture.
A network of canals criss-crosses the countryside, and there are castles, manor houses and small stately residences protected by moats from unwelcome intruders. From Lake IJssel to the river Weser, the ancient, cultivated Friesland landscape is characterised by small romantic churches, abbeys and traditional villages built in the round on the top of artificial mounds. It is a mixture of moorland, sandy heathland and rich fenland. High tide and low tide, cutters and curiosities are as much a part of East Friesland as tea with candy sugar (Kluntjes), a traditional drink that can also be enjoyed with cream.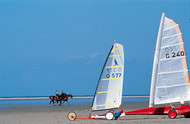 The Emsland has extensive areas of fen and heathland, gentle hills with fragrant juniper groves, forests, meadows and idyllic watercourses. The laborious work of peat digging and the spartan lifestyle of past generations of peat farmers is brought vividly to life. The Ammerland, an area of glorious parks and gardens, is a symphony in green. As Germany's "ham heaven", it is also popular with gourmets. The bulging, well-salted hams are smoked in the traditional way over alder and beech wood and hung from the ceilings of old farmhouses. Eels go straight from the fish trap into the smoking oven.
In the Brookmerland visitors can go on the trail of pirate Klaus Störtebeker. The Jeverland is in the north-west of Friesland with Jever as its regional centre. Jever has a castle dating from the fifteenth and sixteenth centuries. The Lower Saxony Wattenmeer National Park (2,400 square kilometres) was founded in 1986. It extends from Emden to Cuxhaven and covers not only the coastal mudflats themselves but also the adjoining areas of sea and some sandbanks. The mudflats here seem to go on for ever, an infinite vista of neither water nor land. The North Sea's southern coast is the only example of this extraordinary amphibian landscape.